WEAPON CHARGE INDICATOR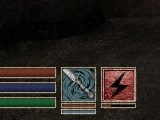 An old design flaw of Morrowind that has always bothered me is how you can see your weapon's condition on the HUD but no way to tell how many charges it has left without opening your inventory. So I've come to my own rescue.

Weapon Charge Indicator adds a tiny little bar that lets you know when your weapon is about to run out of juice.

Version: 1.0
Year of release: 2011
File size: 36.6 KB
Requirements: Morrowind + Tribunal + Bloodmoon + MGE (see readme)

Screenshots:


Keep your eyes to the lower-left.

Victory is at hand!
Leave a comment
Comments (123):