CHANTER KIT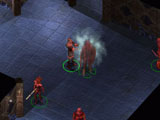 Chanters are monk-priests who specialize in the keeping and telling of ancient lore. Imbued by divine power and primordial secrets, their chants bear powerful magical properties that can aid allies or smite enemies.

The chanter is a bard who has access to divine powers but lacks the arcane expertise possessed by bards in general.

Advantages:
- Has access to a selection of priest spells.
- Can cast spells in armor.
- Immune to effects that cause casting failure.
- Has access to a number of chants. A chant works like a bard song and affects all nearby allies.
Level 1: Sanctum (+2 to all saves, protection from fear)
Level 6: Contegitas (+33% fire, cold, lightning, and acid resistance)
Level 9: Omnimens (immunity to charm, confusion, and hold effects)
Level 14: Salve (heal 1 HP per round, immunity to level drain)
Level 17: Veritas (removes all nearby illusions and grants true seeing)

Disadvantages:
- Cannot learn or cast wizard spells.
- Cannot pick pockets.
- No proficiency in two-weapon fighting.

Version: 1.4a
Year of release: 2009
File size: 693 KB
Requirements: Baldur's Gate II

Screenshots:


Keeping the front-liners in tiptop condition.

Switching your chant always helps adapt to the task at hand.
Leave a comment
Comments (8):